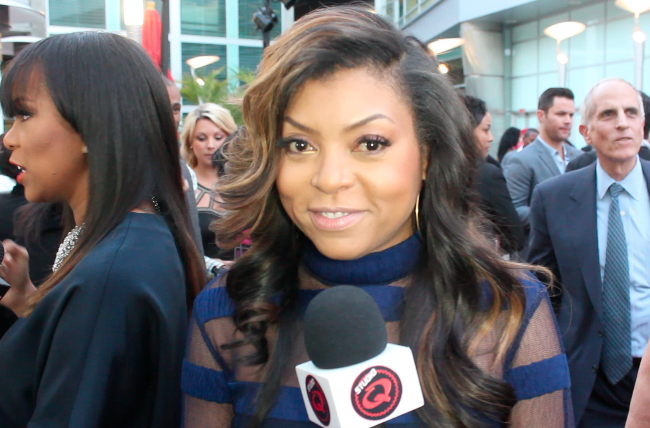 I interviewed Taraji P. Henson at her Hollywood movie premiere for the "From The Rough" film she and Michael Clarke Duncan starred in.  This was before she became Cookie in Empire, Hidden Figures and that bad ass Proud Mary. From The Rough is movie that tells the inspirational true story of Catana Starks from the historically black university Tennessee State, who became the first African-American woman ever to coach an all-men's team at the collegiate level. Through grit and determination, she overcame incredible odds and deep-seated prejudice from all corners to guide a rag-tag group of golfers to an all-time record championship season. 
"I believe art changes lives, art saves lives, art creates lives, and right now, tonight, it's not about me. It's about this woman's story, her legacy. She touched me; she inspired me." Taraji says about Catana Starks during our Studio Q interview.  This was the last film that Michael Clark Duncan starred in. Taraji says, "I'm just so grateful to God and the angels above, including Michael Clark Duncan who had everything to do with getting this movie distributed. There's a very emotional scene in the movie when I'm getting fired..and I'm human. Some days I'm in it, some days I'm not. And this particular day, I just wasn't feeling it. And as a scene partner, he was there and available. And all I had to do was look up in his big ole brown eyes, and then it just came for me." 
Other stars in the film include Henry Simmons, Tom Felton, LaToya Luckett, Ben Youcef, Robert Bailey Jr. and Justin Chon. This film is all about dedication and perseverance. Coach Catana Starks is indeed a true Shero and after watching the film, you'll feel totally inspired.
Listen to my interview with Taraji P Henson. 
About The Host: Quencie Thomas is the founder/host for an Internet celebrity interview show entitled, Studio Q.  She has been interviewing Black Hollywood for over 15 years, written for editorials such as, The Atlanta Voice and The State Journal-Register, and produced for TV show such as The Tyra Banks Show and Divorce Court. 
Follow: @quencie on Twitter | Quencie on Facebook | @quencie on Instagram | YouTube